Andre Jute turned his Utopia Kranich into an electrified bike. In this six-part photo essay he shows you how he did it, how you can turn your own bike into a pedelec without spending a fortune, for two only hours of your time.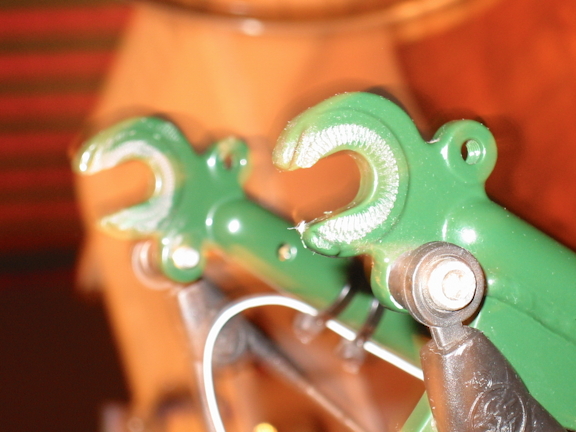 There are some who think steel forks are essential for electric bikes. These forks, by Van Raam of The Netherlands for Utopia of Germany, are of specially shaped and butted Columbus steel. They're strong enough!
1: ELECTRIC MOTOR CHOICES FOR A PEDELEC
2: CHOOSING YOUR KIT, AND ITS SUPPLIER

Building an Electric Bike 3:
HOW I BUILD MY ELECTRIC BIKE IN A COUPLE OF HOURS
By Andre Jute
If you can take out a wheel to mend a puncture and refit it without killing yourself, you can fit the 8FUN electric bike kit. It took me about two hours.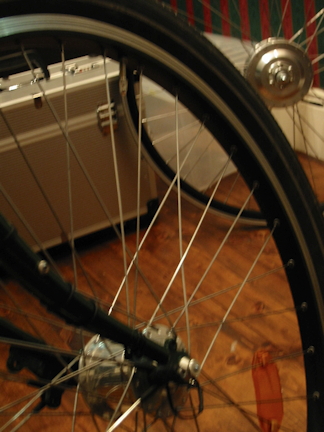 ]
Here the SON hub dynamo wheel is being removed, with the 8FUN electric motor wheel in the background.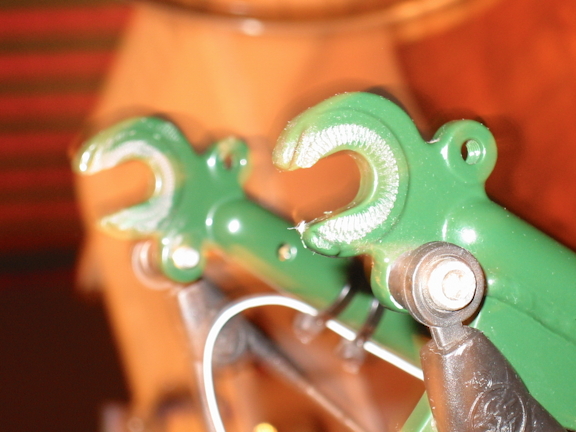 Anyone who thinks I'm going to file the dropouts on the fork of a bike that cost BMW money won't be selling me a pedelec kit.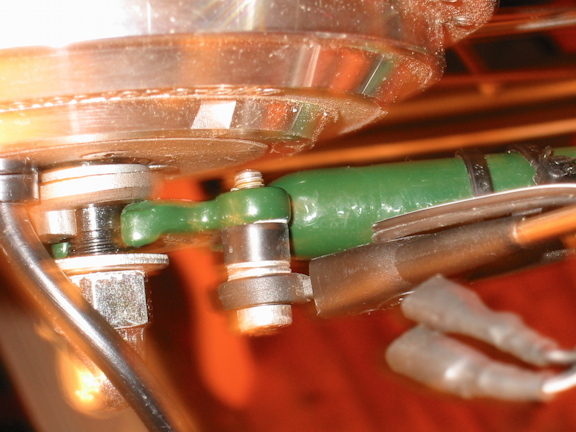 Those Dutch lawyer's lips are real tight, so I made a trial fit first, then had a cup of tea while the blue smoke cleared from the air. Note that the anti-torque key still needs to be rotated to fit properly. This is a detail which, if not attended to, will rip out the wires and ruin the motor.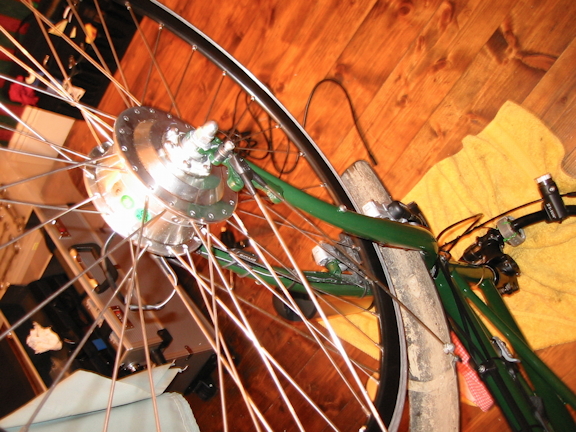 This is better! At this point I tried to start up the motor. Nothing. More blue air.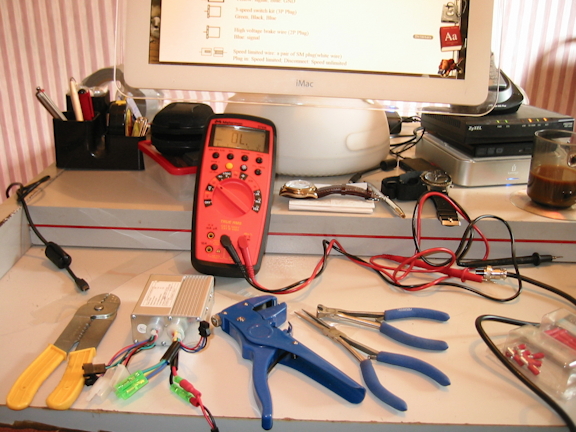 It took me only five minutes to trace the fault to a loose connection and solder it up. A minor irritation.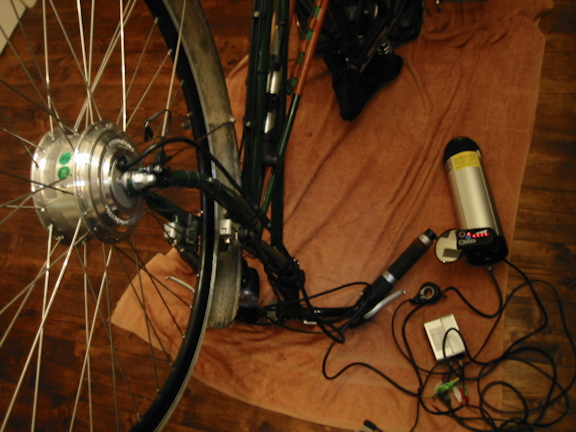 Okay, now the master switch (lying on the battery) lights up. (There is in fact a boss master switch on the battery as well. This will become important in the final stage, where I shall make BUMM lights work with the battery.)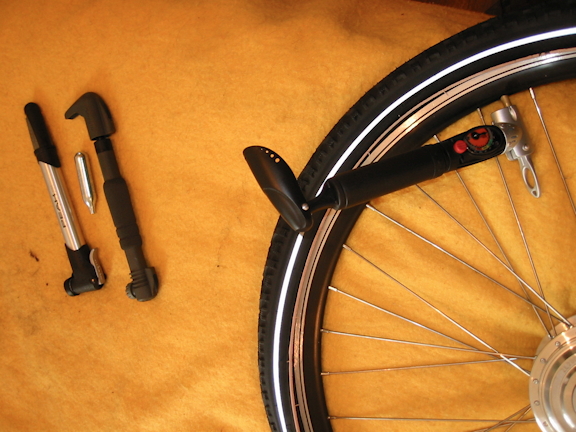 A very nice thornproof 47mm Kenda tyre and tube were supplied in the kit, but the Woods valve in the tube made quite clear to me that the majority of these kits are intended for the Continent, where the Woods valve is alive and well, and probably more common than either Presta or auto valves on bikes. Another blue air break while I found a pump that works with Woods valves.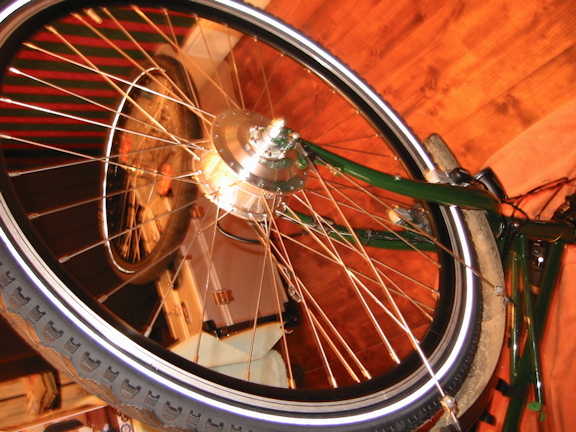 Here the assembled wheel is fitted and the fit of the anti-torque tongues in the dropouts very carefully inspected. The tightness of the axle nuts should be checked every day for a week or so, until they settle in tight. Resist the temptation to over-tighten these nuts.
4: FITTING THE BATTERY AND CONTROLS
5: CAR STRENGTH LAMPS FOR 36V ELECTRIC BICYCLES
6:  SETTING UP CAR STRENGTH LIGHTS ON AN ELECTRIC BIKE
Text and original photographs copyright © 2012 Andre Jute