CoolMain Press Proudly Announces
Publication of the
Fifth Volume Appearing in
Dakota Franlin's Grand Series
RUTHLESS TO WIN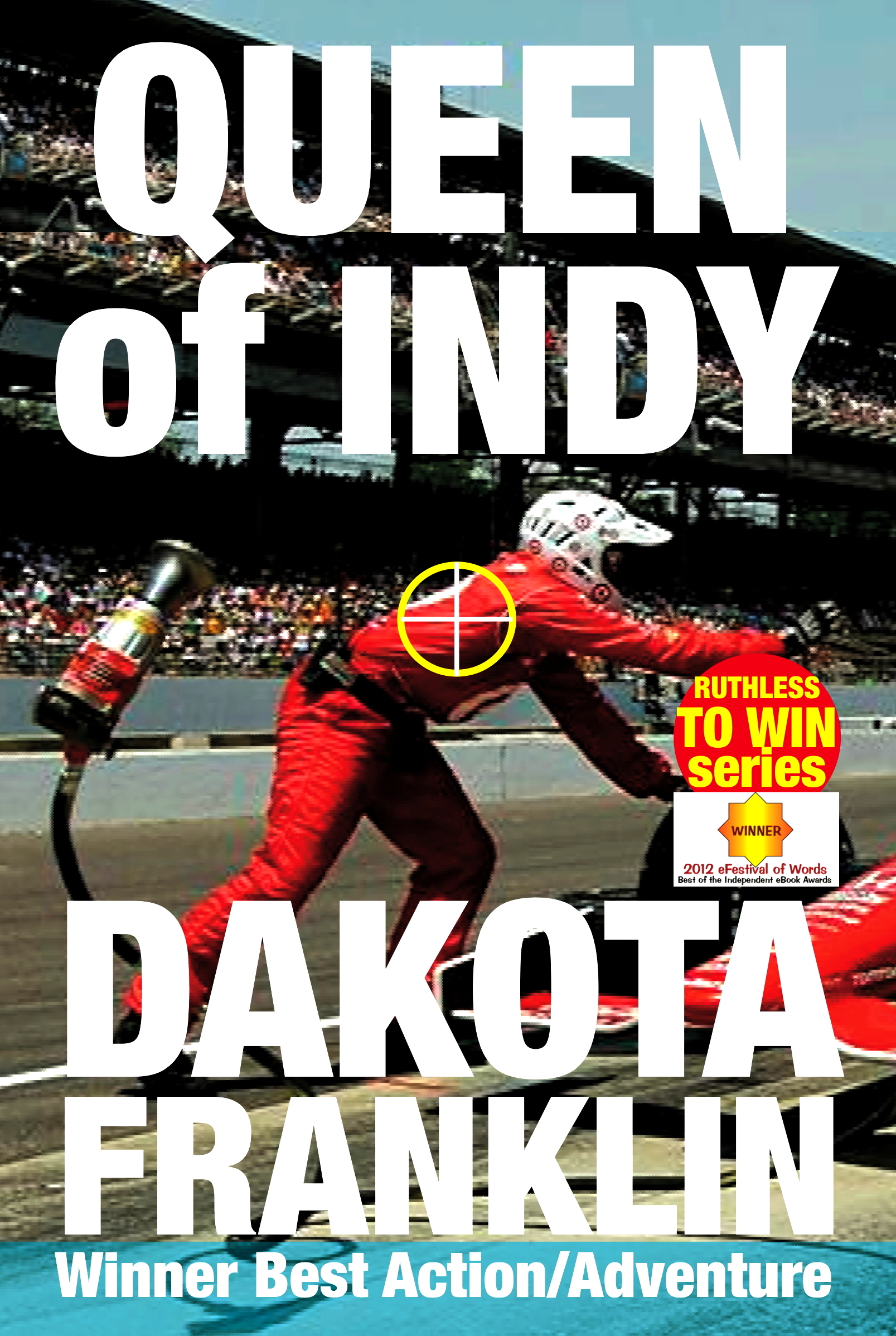 QUEEN of INDY
by Dakota Franklin
When the terrorist Mamoud attacks the house party, Raf Ferenghetti and Sally Samson, juniors at Armitage Racing, save the daughter and heir of Lydia Simpresi, the sponsor and friend of Armitage. As a reward, Raf and Sally are put in charge of Armitage's run at the Indy 500 financed by Simpresi. Now Mamoud is free and wants revenge for the death of his comrades and his own public humiliation. Raf's new job includes security.
"I know, I sound like an idiot to whom things just happen, some of them dangerous. But I suspect that's the nature of working for Armitage, and that they know it too, hence my job description: 'Initiative.'"
All Raf wants to do is to protect Sally, help to turn her into a star racing executive—the Queen of Indy—by doing his own job as chief of operations superbly well, and then to return to his own dream of becoming a sculptor.
But Raf answers to the maximum Armitage trouble-shooter, the uncompromising Charlie Cartwright, and for assistance must count on the Armitage security consultants, the relentless Frank Harrington and the ruthless, violent ex-Presidential bodyguard, Joanne Bartlett. The Harringtons have captured one of Mamoud's lesser minions.
"I take the same view of the Harrington mob as Jack and Adam take of Charlie: don't ask, or you may become an accessory before the fact."
In the padded cell where they are driving their captive insane the sooner to unlock the secrets in his mind, Raf discovers he is a natural interrogator. To his horror he learns that Mamoud has declared Sally a special target.
With the identikits of some of the remaining terrorists Raf has extracted from the captive, he expects the FBI to catch Mamoud and protect everyone, but the FBI publishes the identikits, and so gives Mamoud a chance to escape and terrorize them again.
"It is liberating to know that by Memorial Day you may be gorily dead."
Now Raf has no choice. Those congenital scofflaws Charlie Cartwright and Joanne Bartlett will not permit Raf to give the FBI a second chance to fail: they're going after Mamoud's terror gang themselves. Raf, 23, totally out of his depth, is along for the ride of his life— "'Charlie has implicated you in abduction and murder, and God knows what other charges could be brought.'" —with associates whose ruthless rigor no one can doubt.
"'Mamoud has made a whole row of security errors. In a fair world, we would by now have killed him for them.'"
If they get don't Mamoud first, Mamoud will blow up one of nineteen ovals where they race, killing tens of thousands of spectators. Raf, aware of his lack of experience, can't even escape responsibility for all these lives.
If he wants to survive and save Sally, Raf must become as ruthless as the terrorist Mamoud, as much of a scofflaw as Charlie and Joanne.
Alongside its terrifying thrills, QUEEN of INDY counts among its other excitements a super love story and a seamlessly integrated insider's look at the creation of a great auto racing team to contest the greatest automobile race in the world. As expected in every Dakota Franklin thriller, QUEEN of INDY abounds in sharply drawn characters on the edge of psychopathology—or over it.
Dakota Franklin's series RUTHLESS TO WIN has already won awards and enthusiastic reviews for fascinating characters and rivetting action.