Andre Jute turned his Utopia Kranich into an electrified bike. In this six-part photo essay he shows you how he did it, how you can turn your own bike into a pedelec without spending a fortune, for two only hours of your time.

New lamps are operated from the battery that drives the motor. They're used as daylight running lamps, on whenever the bike moves. Motorists with brains give me a wide berth!
1: ELECTRIC MOTOR CHOICES FOR A PEDELEC
2: CHOOSING YOUR KIT, AND ITS SUPPLIER
3: HOW I BUILT MY ELECTRIC BIKE IN A COUPLE OF HOURS
4: FITTING THE BATTERY AND CONTROLS

Building an Electric Bike 5:
CAR STRENGTH LAMPS FOR 36V ELECTRIC BICYCLES
by Andre Jute
The electric motor was fitted in the place of the SON hub dynamo, so the lights must be powered by battery. I took the opportunity of fitting newer lights front and rear. The rear lamp is clearly brighter than the one it replaces. The front lamp is theoretically only as bright as the one it replaces, but of course it operates at a constant voltage off the battery. When I had a recording speedometer (Ciclosport HAC4) on my bike, I was surprised at how often I rode below the 15kph at which my preferred German lamps produce maximum output, and those occasions are exactly when you're in heavy traffic, or slowing to let a car pass on a narrow lane, times when you most need your lamps to shine at their brightest. So it will be a welcome advantage to have a front lamp that always shines at maximum design output.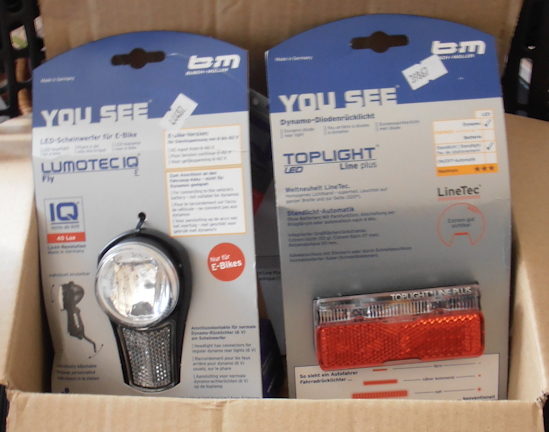 The BUMM IQ Fly on the left has the same optics as the excellent BUMM Cyo R it will be replacing. The Toplight Line Plus has BUMM's new Linetec technology for better visibility than the D Toplight Plus it will be replacing.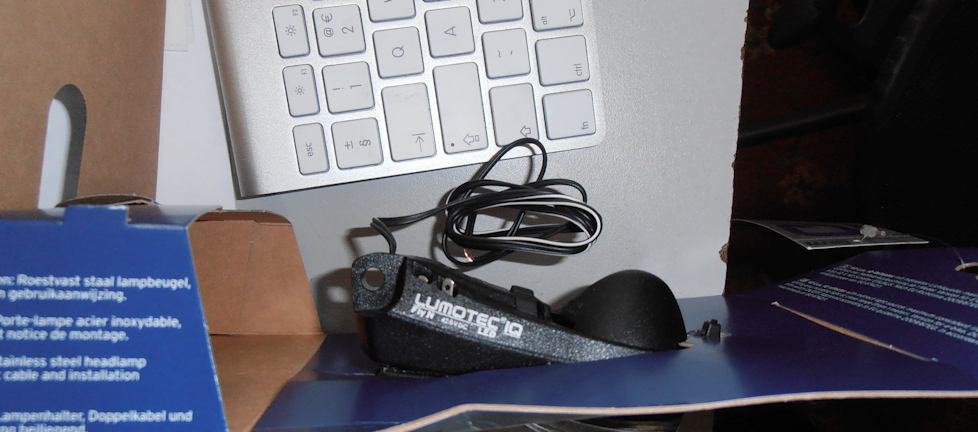 The E-Fly, unlike its lesser bretheren which run off 6V, operates at up to 42V, and passes a reduced voltage to the Line Plus rear light.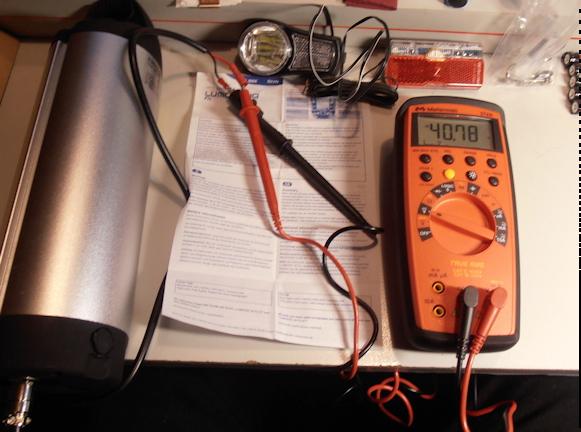 The nominal voltage of my battery is 36V but it can vary between 29V (when the controller will shut down operations to protect the expensive battery) and 42V. Here a battery that has already been used on the day has its output measured before being attached to the new lights.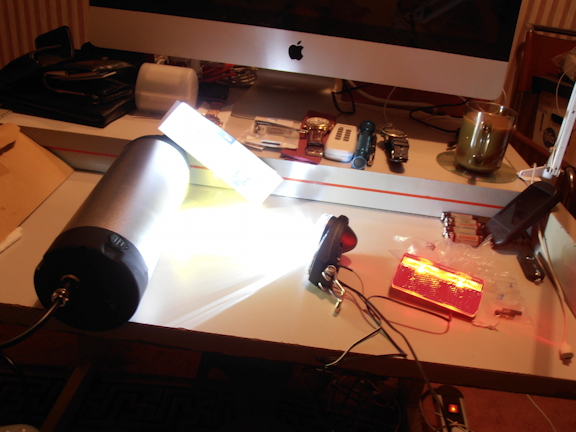 Yup, they light up. Wrong polarity causes no harm but the lamps just don't light up.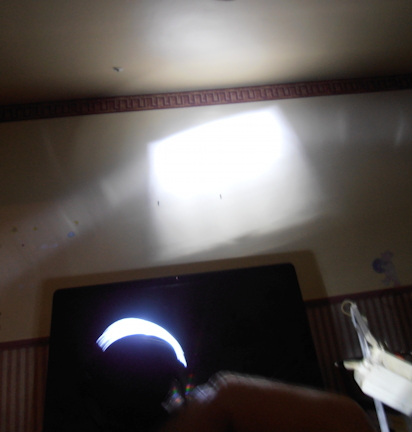 This is the familiar BUMM IQ headlamp pattern, square, tight, flat-topped and, in the opinion of many, with too little sidespill to see by.  You can judge the size of the light patch on the wall two metres away by the 27in  Apple computer screen over which it is thrown. This is a very powerful lamp, especially when operated on a good battery, so it will have to be set up with great care so as not to irritate motorists.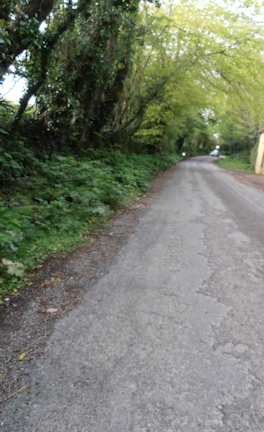 This is what it looks like in hazy daylight at 60 metres, near enough 200 feet.
In hazy daylight, at 30 metres.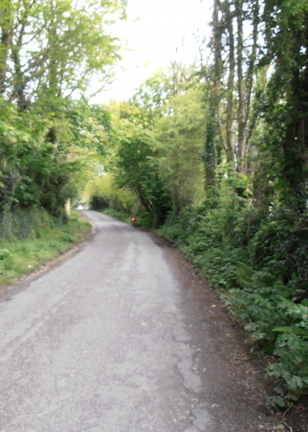 The BUMM Toplight Line Plus in hazy daylight at 60 metres.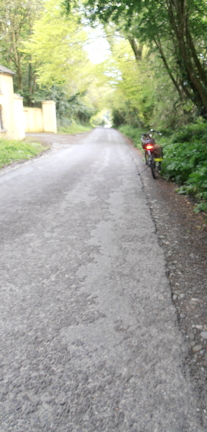 In hazy daylight, at 30 metres. This pair will make good daylight running lights!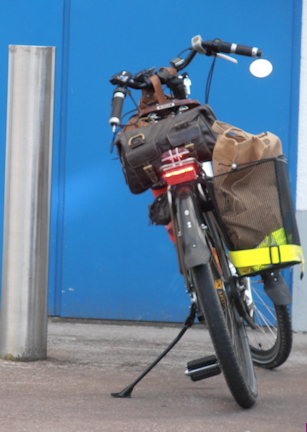 From 60 metres, zoomed, in clear conditions. BUMM's Linetec works fine. See how it eclipses the previous best daytime running lamp, the Cateye TL-LD1100, which is twice the price.