Dakota Franklin's stunning
REQUIEM AT MONZA
is here!
"I thought the characters were great. I was swept along...a cracking good read." — Joo's Book Reviews and Interviews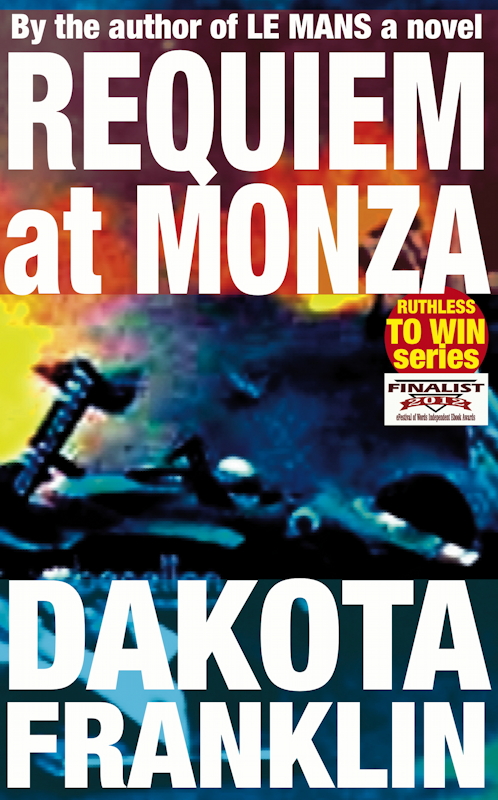 "I'm Joanne Bartlett. I was educated in Tennessee and Washington. I took my twin Ph.D.s in instant action from the Ivy League of controlled violence, Quantico and the Secret Service of the Treasury. My finishing school was a high-speed dash across France in a Bentley Arnage Red Label."
Joanne is a 6 foot 4 inch legend in her profession for taking a bullet for the President. But she wakes up angry every morning because at 28 she is too tall, too beautiful, and too dangerous, simply too much to get a man.
Now Joanne, making her mark in private industry, is seconded from security consultants Harrington's to help the auto racing house Armitage sort out a vicious judicial muddle in Italy. Jack Armitage himself is charged with the murder of Silvio Ferrara, who died in an accident in the Italian Grand Prix at Monza. It will destroy the firm.
Mired in a mass of impenetrable Italian immorality, fearful that she and her Armitage helpers will be killed by the Camorra (the northern Italian Mafia), whose role in the interlinked crimes is obscure, Joanne meets deceit with deceit and violence with a bigger body count.
"There is something about me you should know, Ludo. I try hard for what you might call sophistication, but underneath the veneer I'm a barbarian. My violent instincts have been nurtured, trained, honed to perfection by my family, my community, my government and my peers, for instant, mindless application.
REQUIEM AT MONZA is the second novel to be launched in Dakota Franklin's grand series RUTHLESS TO WIN. The first volume, LE MANS a novel has already appeared on the best international bestseller lists, as have all the other volumes since.