Dakota Franklin's
RUTHLESS TO WIN


OMNIBUS ONE


goes straight to the
bestseller lists!
"An outstanding novel! Cannot recommend Dakota Franklin enough...
All her books are fantastic!"
Drew Boyd
"The Queen of Racing Scribes"
John Houlton
"I thought the characters were great. I was swept along...
a cracking good read."
Joo's Book Reviews
"I thoroughly enjoyed this book — in fact,
I started reading it again straight after I'd finished it."
L. Rumbold
"A wonderful story full of action and remarkable detail."
Boyd S Drew

RUTHLESS TO WIN
OMNIBUS ONE
comprising
TROUBLESHOOTER
LE MANS a novel
RACING JUSTICE
by Dakota Franklin
• Dakota Franklin WINS Best Action/Adventure at Best Independent EBook Awards
• Dakota Franklin's series RUTHLESS TO WIN has already won awards and enthusiastic reviews for fascinating characters and rivetting action.
• The six volumes already published in the series — LE MANS a novel, REQUIEM AT MONZA, TROUBLESHOOTER, NASCAR FIRST, QUEEN OF INDY and RACING JUSTICE — have all been international Amazon bestsellers.
• RUTHLESS TO WIN OMNIBUS ONE entered the bestseller lists minutes after it was launched.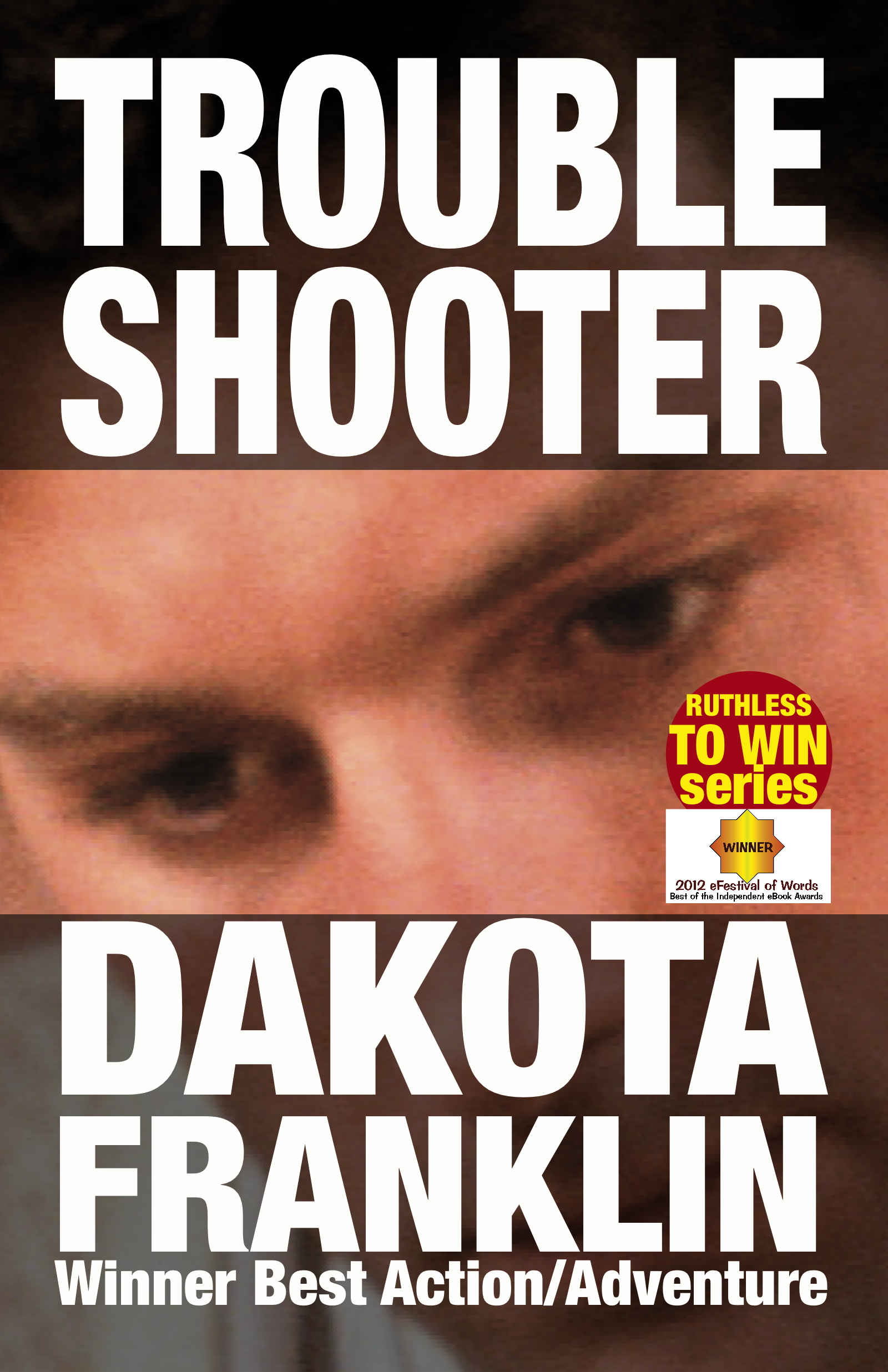 From the first page of
TROUBLESHOOTER
by Dakota Franklin
20-20 hindsight
On the Sunday before the start of the grand prix season, I went to two parties and committed a criminal conspiracy with the woman of my dreams. Monday I started on the slippery slope that would end when I learned that my friend betrayed me. Tuesday I intimidated the most powerful and least accountable government department of a sovereign democracy. Wednesday someone tried to kill me.
Just so you don't get the idea I do that sort of thing all the time, we'll start at one of the high points of my life, which happened on the second Sunday before the start of the grand prix season.
Oh, by the way, I'm Charlie Cartwright. How do you do?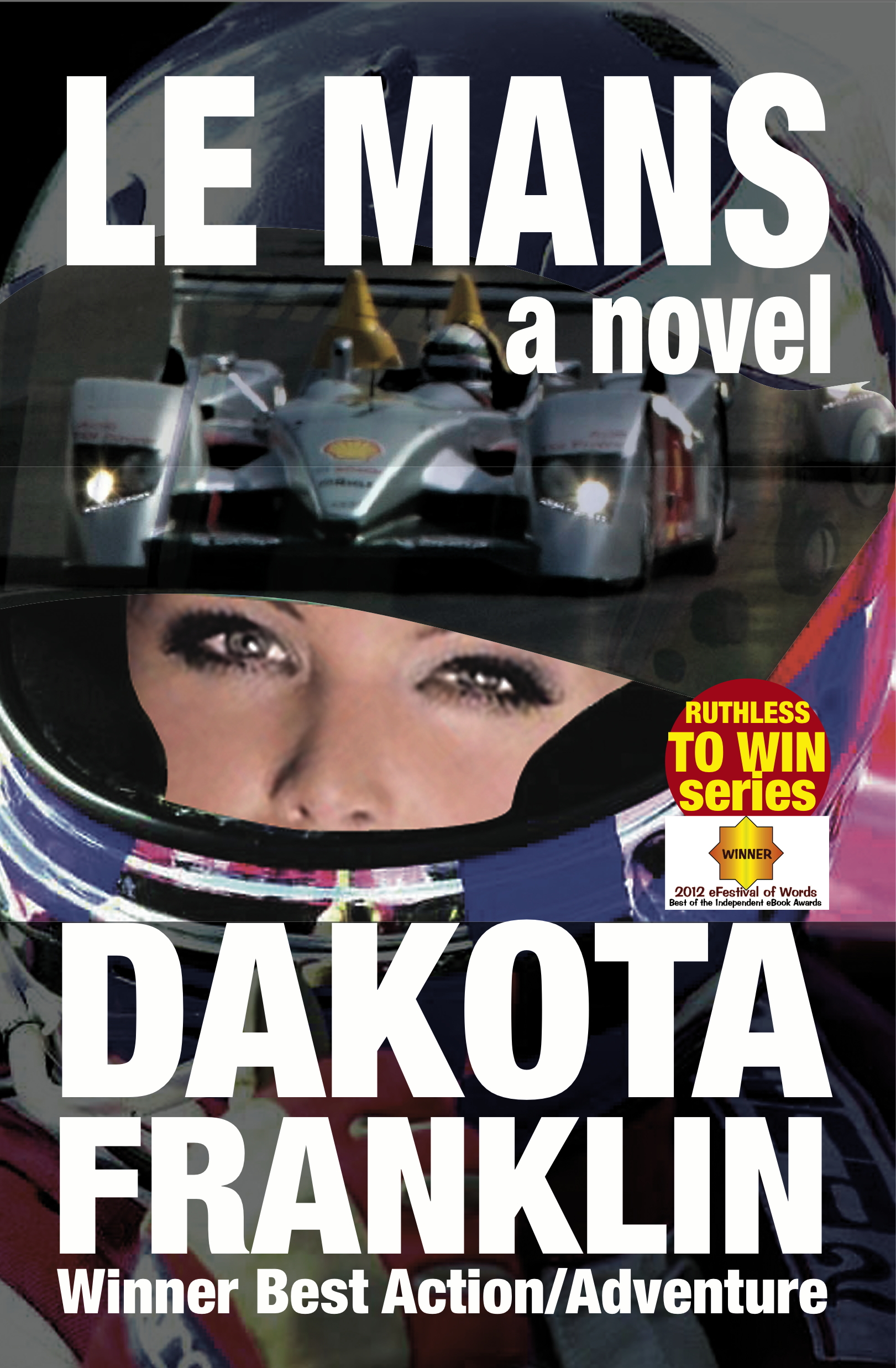 LE MANS
by Dakota Franklin
"On the track a racer has no friends"
Mallory, a crashed-out, half-dead, never-has-been auto racer, gets one last chance when triple Le Mans winner Charlie Cartwright hires her as an engineer at Cartwright-Armitage. Now she's on the fast track as an engineer, an executive, a driver — in a winning car! She even has a man she can love.
When ambitious tycoon Fred Minster steals the winning Cartwright-Armitage design, Mallory spearheads the investigation which uncovers a traitor inside Armitage.
Threatened by her investigation, Minster orders Mallory abducted by a Detroit criminal to keep her out of the race. Mallory knows that if she doesn't race at Le Mans, her career is over.
With heart-stopping, realistic race sequences both in the American Le Mans Series (ALMS) and at Le Mans, set against an insider's portrait of the high-tech jet set milieu of amoral predators whose only justification is winning, Le Mans is the key thriller for the new millenium. Here violence is never as much as skin deep, and ambiguous sexuality is merely another facet of power.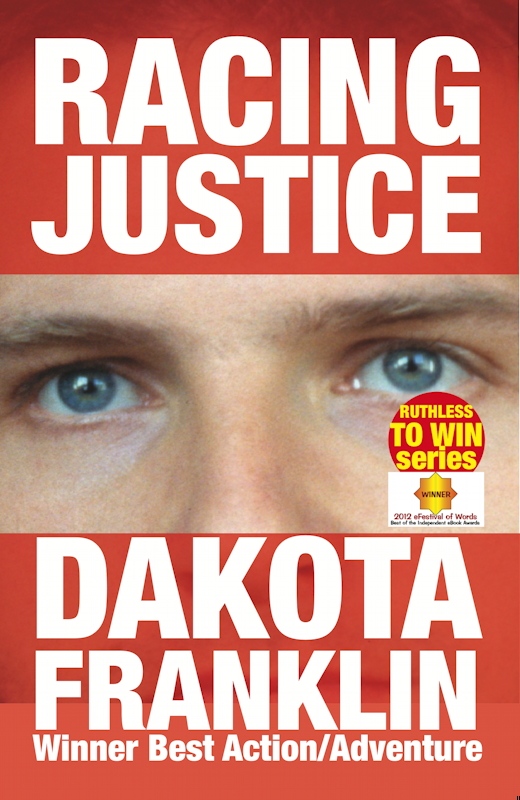 RACING JUSTICE
by Dakota Franklin
In a year which will change Simon Aron's life forever, his friendship and loyalty will be tested by every woman he ever knew, and one will betray him.
Mallory, an old girlfriend with whom he raced a Cobra while they were at college, has been kidnapped by a brutal mobster in the pay of Fred Minster to keep her out of Le Mans, the top endurance race in the world. Minster has also stolen the winning designs of the Cartwright-Armitage car she is entered to drive.
Armitage is vengeful. So is their sponsor, the immensely rich Lydia Simpresi. They want to destroy Minster for setting a monster to rape and kill their princess. They want Simon, a lawyer disillusioned with the law, to be in charge of punishing Minster. A spectacular court case follows.
'I want to destroy Minster utterly.' Mallory said. 'He ordered me tied to a bed by criminals. He ordered a film made of my degradation for his pleasure. And no steel pipe job. I want Minster to suffer for the rest of a very long life.'
Her voice was low, not hysterical at all. She meant every word, and in a year will still mean it.
Mallory is the only woman Simon ever failed as a lover: he will not fail her again. For her he will return to the law.
Only by betraying the fragile Mallory or the equally victimized Constance can Simon win instantly and certainly.
Casting cutting sidelights on the law, intellectual rights, Hollywood, Broadway, auto racing, free speech, money, Wall Street, yacht racing, power and sex, Simon has to manipulate everyone to win without going to jail himself, without breaking the law, without breaking his own code of conduct, without betraying any of his women, not even the opposition lawyer, Constance O'Flynn.