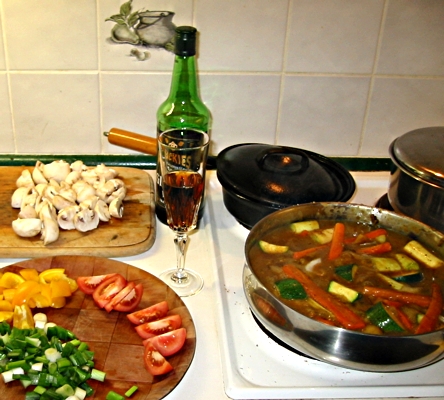 Only a barbarian starts cooking without first opening a bottle of wine.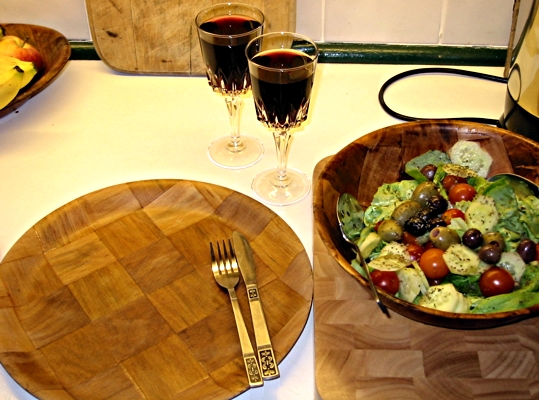 A tossed salad waiting for the protein to be cooked and served.Cocktail tomatoes still have the taste the EU uniformity rules have caused to be bred out of many other tomatoes generally available in Europe.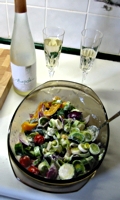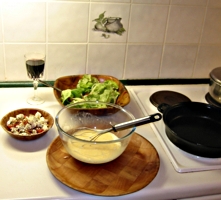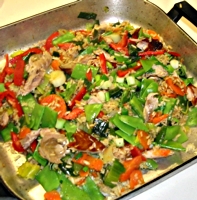 On the left chopped vegetables chosen for their colour and taste and texture, mixed with yoghurt, provide a base for a joint of pork to be baked. In the centre, the key to a good omelet is to prepare everything before you even switch the stove on. On the right a rice dish, though you can't see the rice underneath the vegetables and smoked fish.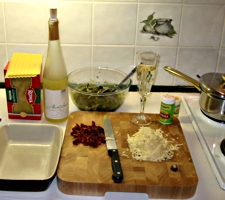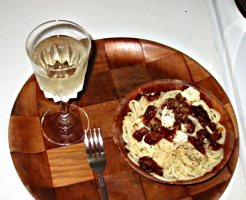 I'm big on pasta. On the left I'm starting a lasagna which will derive its taste from sundried tomato. The wine is a desert wine from Marks & Sparks I like to drink chilled as an aperitif. On the right, a hefty white, probably a Bordeaux nouveau with a spaghetti which also uses sundried tomatoes for extra zing.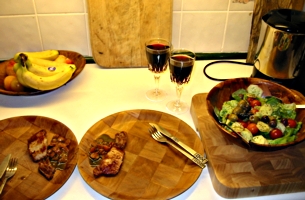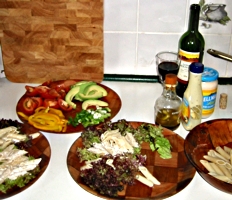 There is no justification for not having something fresh on the table even with a cooked meal. The small gravy on the chop was made with leftover vegetables from a previous meal. Right: a variegated, tasty meal can be made straight out of the fruit and veg store with some cold chicken and macaroni left over from another meal. Here it has turned into an excuse to use lashings of mayonnaise.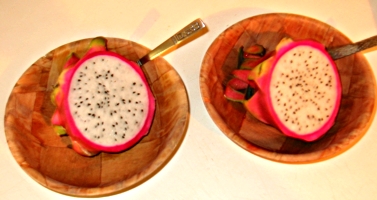 Oddities. Some kind of weirdo fruit from that weirdo little country south of the Great Country. New Zealand also gave us the kiwi fruit, which at least has some taste. On the right The Triffids Will Have Their Day. I lit my gas torch when I picked that one out of the vegetable basket, just in case it got bolshie when it saw the knife.
All text and illustration Copyright © Andre Jute