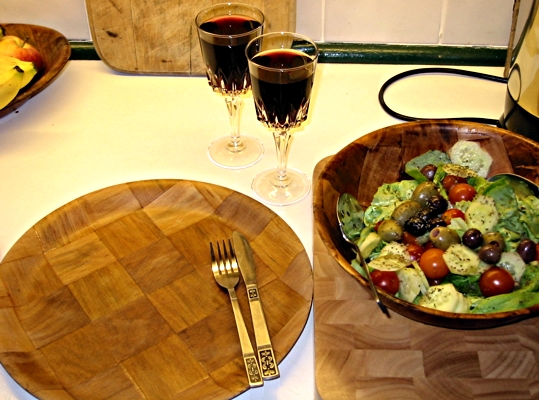 Simple one pot meals aren't as quick as you might think. Three-quarters to two hours of preparation and cooking time is a good estimate.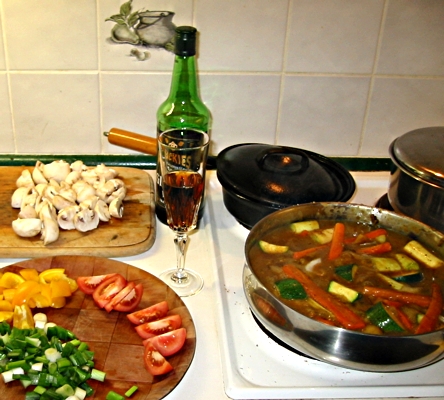 A simple mushroom stew of courgette and carrot being cooked in the sauce to soften them, with the mushrooms waiting to go in. The capsicum, spring onion and tomatoes are added just long enough to warm them through before serving. Half a glass of ginger wine gives the stew bite.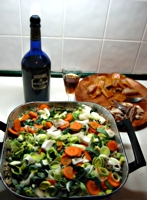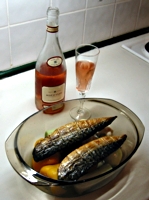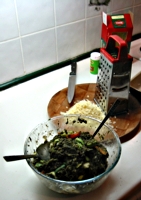 Underneath the chopped vegetables on the left is rice which has been 'nutted' in garlic oil. Smoked cod and smoked mackerel go in last. In the centre the fish lies on a bed of vegetables. The mix of chopped leek and spinach on the right is for a vegetarian lasagne. The leek gives a peppery taste, so a light or absent hand with the grinder is required, especially if you have a heavy hand with the paprika on top of the lasagna.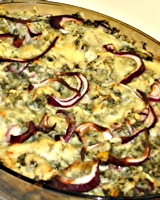 Building the lasagna in the dish. A seafood pie on the right with whatever fish was in the fridge and a few tiger prawns, plus a few thinly sliced rings of purple onion for colour.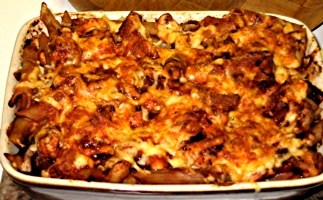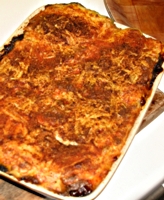 On the left a baked macaroni-cheese, on the right a vegetarian lasagna.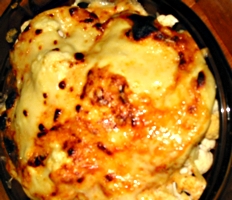 Cauliflower cheese on the left. The key is to add a little lemon or mustard to a lot of cheese and to bake the cauliflower only until the cheese is right. Those who like their cauliflower well steamed should part-cook it over steam before adding cheese and baking. On the right chicken tikka sticks made by our local butcher, mangetout, cooked capsicum, steamed carrot (good for night vision) plus stuffed mushrooms to give the plate interest.

Great meals I have cooked: a photo essay part II

All text and illustration Copyright © Andre Jute