---
---
"So well-written, with the combination of graceful, elegant prose and tough subject matter that makes Andre one of the best around."
— 
Matt Posner on Facebook
---
---
"VANGUARD ELITE was a real pleasure to read, the writing is rock solid and flawless – every word is the right word, in the right place. The only problem I had is that the first volume of this multi-volume saga is too short. The next volume is written and awaiting publication. Bring it on."
— 
abrwrite/Librarything
---
---
*****
5.0 out of 5 stars
Gone With The Bolsheviks?
Review by Doug Glassford

How do I describe this book… it reads like a literary classic and as a screenplay for a historical documentary miniseries. The language is lush, vibrant even when describing the horrors associated with the Bolshevik Revolution… as with any great nation that suffers the chaos of change brought about by a sudden shift in government. This story follows the lives of three generations of strangers who became fast friends in a decidedly unfriendly environment. Idealists and realists intertwine as things that keep spinning out of balance are justified and vilified in this dense, tense telling of a true historical event; one that helped shape our world into what it is today.
---
---
CoolMain Press Proudly Announces
the epic saga
of ten intertwined families
who live and die by their love of
their Russian and American motherlands
and the searing passions they
arouse in each other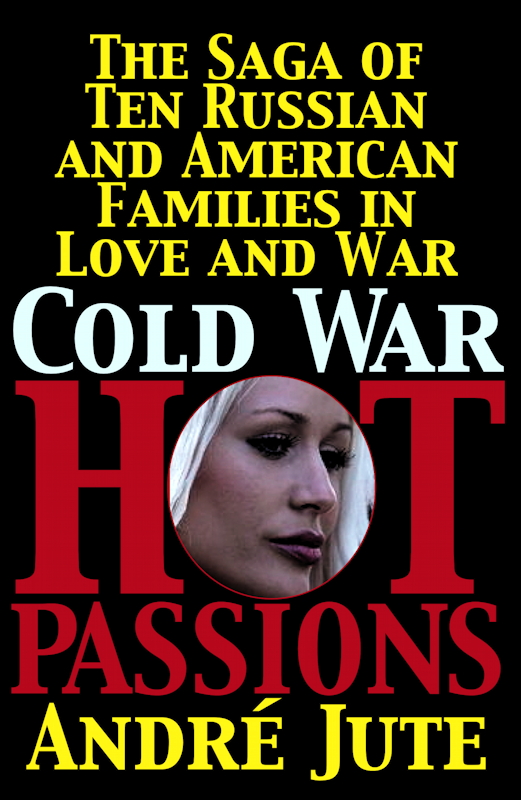 COLD WAR, 
HOT PASSIONS
the series
by André Jute
• around 2000 pages• at the rate of one volume per month
FROM THE STORMING OF THE WINTER PALACE…

In the beginning they were impassioned young revolutionaries risking only own their lives for justice. The prince, the soldier, the peasant and the baroness became the founders of three families, steadfast in love and war, whose generations are enfolded in the sweep of humans and inhumans, inquisitors and victims, the betrayals of friends and family, the show trials of colleagues, the psychiatric tortures of dissidents, that was Russia under the Communists, right up to glasnost, when the fourth generation must answer the question, Was the result worth three generations of tragic suffering and sacrifice?

And the Americans who opposed them for liberty, the patrician Adams family, the refugee Hirches, the redneck Remptons who became political powers in the land, the McQueens who did not count the price of rising from smalltown mid-America to the highest levels of the nation, the Drexlers who had always served their country, the implacable Southern Hubbells who could — and did — threaten Presidents, and the clever Talbots whose shy Joanne married the handsome Russian who was the cleverest traitor of them all.

In his first novel for two decades, a storyteller who has always had a knack with the true history of men and women will touch your heart and thrill your mind with the risks these men and women took with their lives and their families for the ideals they were born to — which some betrayed, and some paid too high a price for in love, even with their lives.


…TO THE BITTERSWEET END
75 YEAR LATER